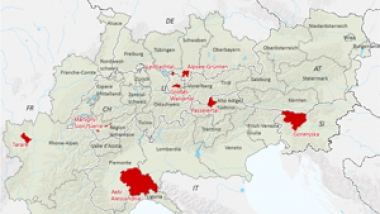 ext_project.objectives
COMUNIS aims at developing guidelines for the promotion and development of inter-municipal cooperation in the field of commercial/industrial land planning. It seeks to devise strategies for
an inter-municipal land management utilizing vacant spatial resources (e.g. brownfields, former military areas, abandoned buildings, etc.) to avoid new land development;
the promotion and communication of activities aimed at jointly marketing commercial/industrial sites on the inter-municipal level;
business development to provide assistance to businesses regarding company start-ups, selection of an appropriate site or for coping with administrative obstacles. The project will result in a transnational knowledge management and establish sustainable structures for managing commercial/industrial location development in selected pilot regions.
PILOT AREAS
The project is being carried out in eight pilot regions (see map) with different framework conditions as regards legal aspects for inter-municipal cooperation and land management. COMUNIS intends to start the process of inter-municipal or intra-territorial cooperation and commercial/industrial location development in these pilot regions. In at least three of these, a detailed stage of cooperation shall be achieved, as for instance an agreed cost and revenue sharing mechanism or a common charter of development. Some of the pilot regions shall be known for their inter-municipal land planning initiatives on a regional/national or even Alpine-wide level and be considered as best practice examples.
ext_project.content
Analysis of pilot areas
Project partners analyzed the pilot areas to compare the framework conditions for inter-municipal commercial/industrial location development according to the Balanced Scorecard-method (BSC). The method was adapted to the research needs of COMUNIS. By means of the BSC, the project partners analyzed
the inter-municipal location profile;
the existing and future potential degree of inter-municipal cooperation for commercial/industrial location development;
the existing legal framework conditions, strategies and systems managing the inter-municipal location of companies (land management). Findings were evaluated in a SWOT-analysis, enabling the project partners to identify the departure point for an inter-municipal approach to problem solution.
Overview of existing strategies and instruments
Project partners collected and analyzed best practice examples for inter-municipal commercial/industrial land planning from the pilot areas and beyond to obtain an overview of existing organizational and structural components of inter-municipal commercial/industrial location development.
Development of a concerted strategy
Such individual components of inter-municipal cooperation for commercial/industrial location development were examined and re-assembled in strategic approaches with different focuses:
Land use development: inter-municipal business park, commercial site policy, comprehensive urban development;
Promotion & communication: commercial site marketing, location marketing;
Business Development: individual business support.
Testing in the pilot regions The identified strategic approach chosen by the project partners based on the situation in the pilot areas is currently being tested. Processes started within this working step are likely to continue beyond the project ending as the starting points for inter-municipal commercial/industrial location development strategies differ among the pilot areas. Experiences from the strategy implementation will feed back into the elaboration of the guidelines.